1974-1976 – Loyal Construction, Superintendent
1977-1982 – Diversity Construction, Estimator / Project Manager
1984-2000 – N&R Contractors, Project Manager
2000-2006 – Diamond Health Care, Project Manager/Developer
2006-2008 – WO Grubb Co., Project Manager of Development
2008 – Present . Mr. White leads the Estimating Department and serves on the Corporate Management team.
Tom's story is complex but his passion is simple, solve the problem in front of you. Born and raised in West Virginia where he was taught old fashion values and the construction trades which he has practiced for over 50 years.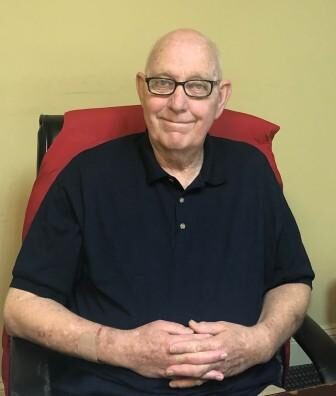 "Generally, I have found myself in a management position where I have always endeavored to put my staff in a position where they can be successful with the right tools, equipment, materials and precise directions for the task at hand. My passion is not to lay some bricks or put up some crown mold but rather to solve the problem at hand and that passion carries over to my personal life. If I encounter a problem I will do my very best to find a solution no matter the problem. For example, on a project at the Virginia Department of Motor Vehicles the task was to remove a large number of very heavy concrete pavers which doing by hand would have been challenging. I designed a special cart that allowed the workers to pick up and move the pavers easily. On a light house project I designed a scaffold system that enabled removing the heavy cast iron roof structure for restoration without the added expense of a barge and large crane. The list goes on but my talent is find a solution to that unsolvable problem.
The same passion carries over to my personal life. A dear friend suffered from addiction. I struggled to find a solution and in the process it occurred to me that one of the problems with addiction is that you can't see it and as such you can't just peel it off of someone or poke it in the eye. There after I asked myself the question "If I could see it what would addiction look like?" I soon developed a mental image of what addiction must look like and I hired an artist to paint that image. By God's grace that painting has helped several to get a handle on their addiction.
Likewise, an encounter with a homeless army veteran who was sleeping outside in a teepee on a very cold morning lead me to learn something about how the government treats those of our veterans that have developed PTSD. This lead to the creation of the Save One Foundation which is an attempt to equip the police, fire fighters, EMTs, and emergency room staff with the tools to better recognize and handle those they encounter with PTSD. I have not had much success to date with this project but remain hopeful.
I am a devout Christian man and at times I believe God challenges us to accomplish something good for all of mankind. So in closing this is my greatest passion."
Offices
Alexandria, VA
Richmond, VA - Hdqrts
Roanoke, VA
Virginia Beach, VA
Oakland, MD