December 2019
Athens Building Corp is awarded the Contract for the provision of construction services to remove and replace the bay floors of the entire first floor at Fire Station (FS) 201, located at 317 Prince Street, Alexandria, VA 22314. The Alexandria Fire Department (AFD) is planning on upgrading their equipment to a larger size with heavier wheel loading weight. The new floor slab described in the Construction Drawings, define the structural improvements necessary for addressing the soil deficiencies, and the extra capacity needed to bear the new equipment loading.
FS 201 is the City's oldest fire station. In the early 1900's, the fire station was constructed from three (3) separate buildings. The current flooring is the same flooring used when the fire station was first established. The flooring has a brick face and steel railings that were once used for guiding an antique, horse-drawn, water pumper wagon. An antique wagon currently resides at FS 201 because the fire station is considered to be a historic City location. When staffed with AFD personnel, FS 201 is an active fire station. The main scope of work for the project is for the replacement of the facility's bay floors. Additionally, the work will include the replacement of the brick paver finish. The original floor and substrate were adequate for the equipment used a century ago, but over the years, heavier equipment have been added to the station and have caused the bay floor to crack and sink. Several attempts for surface repair were conducted, but only temporary in nature and did not address the sinking problem.
March 2022
Construction has finally begun on the FS 201 Project. Delays due to Covid 19 have postponed the project for over two years. Finally, the building will receive the proper repairs needed.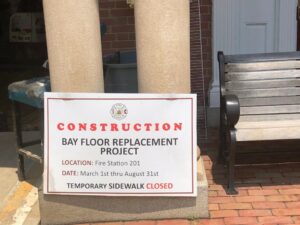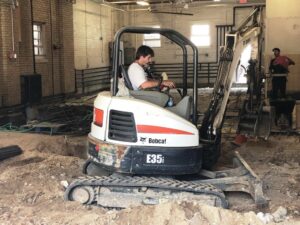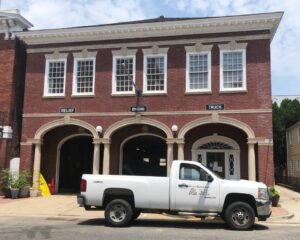 June 2022 
Structural Beam construction in progress.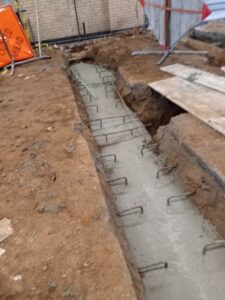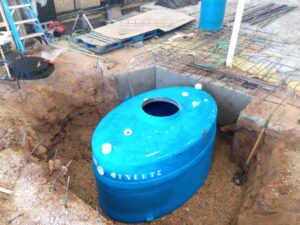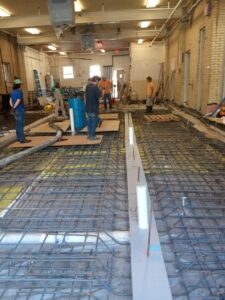 August 2022
Pavers are installed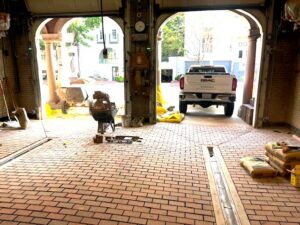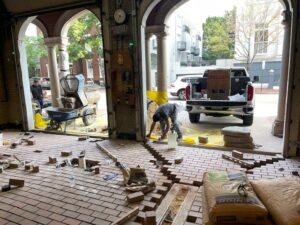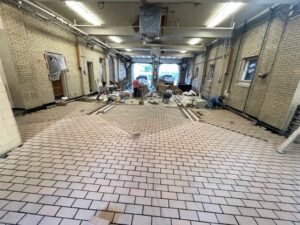 September 2022 – Project Complete